Tulip Pinks and Purples: Inspiration Colors
Learn how you can easily get inspired from a picture like this to create a spring themed set of jewelry!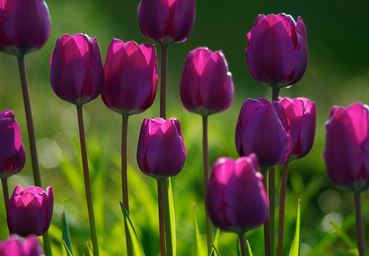 PINK & PURPLE:
This mixture is the perfect color combination for the spring! Think freshly bloomed flowers, Mother's Day and Easter!

The Swarovski Crystals that we used to create our set are in the following colors (from left to right):
Rose |

Amethyst |

Fuchsia |

Burgundy | Purple Velvet | View All Here

METAL PLATING:
The Gold Overlay is one of our the best selling finishes. We personally used the Gold to create a base that has a warm look to it. It return it makes the cool purple colors have a warmer tone.
RECREATE:
Want to recreate this look? Here are the empty components below:
One Flower Filigree Necklace with Empty 8.5mm (39ss) Center Setting in Gold Overlay | View Here
One pair of Empty Earrings with Butterfly Filigree 8.5 mm (39ss) in Gold Overlay | View Here
One 8.5mm (39ss) 33 Box Necklace in Gold Overlay | View Here
Tools Needed:
8mm Hand Tool | View Here