The jewelry industry has a long history with Rose Gold, a color that exists somewhere between luxury and fashion. In the past Rose Gold has gone in and out of style, but right now it is very much back in and does not look like it is going anywhere soon.

Everyone is feeling the Rose Gold Rush.

Each winter, the Pantone Institute names its colors of the year. The 2016 color selection was Rose Quartz, a cousin of Rose Gold, and a shade of blue called Serenity.
The video below opens with a montage of desperately serious things: protests, fights, riots. It feels like a subliminal brainwash. Suddenly, the clouds part and the video slows as Rose Quartz and Serenity fill the screen.
The real beauty of Rose Gold is what it says about the world and why it's proven popular. People love it for the subliminal sense of peace and the calm it provides in an increasingly hectic world.
Las Vegas Rhinestones is now introducing a new Rose Gold finish to more items in our product line! This true Rose Gold is a gorgeous pink gold that is done by a new high quality plater that uses a double anti-tarnish. Keep an eye out for this addition on our website.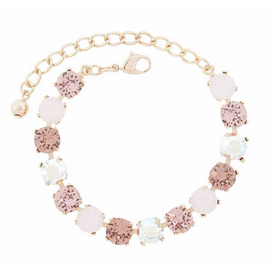 Have questions? Feel free to email us at info@lasvegasrhinestones.com!
Happy Crafting! - LVR Team