Here at LVR we love educating our customers so they can make informed decisions while designing their creations. Below is some information regarding the eight different finishes we offer.

_ _ _ _ _

All of our jewelry bases are raw brass to ensure maximum durability combined with low pricing. Using electro-forming techniques, our Rhode Island based platers take our brass base and plate them precisely with one of our eight finishes offered. This process maintains the jewelry base in the best possible condition. From there we inspect every piece that re-enters our shop for the highest quality.
Our Brass Ox and Copper Ox finishes are 100% nickel-free. However, our Hematite, Rhodium, Gold Overlay, Sterling Silver Overlay, Silver Ox and Rose Gold finishes all contain a light coating of nickel underneath the finish coat. This is common in costume jewelry and the purpose is to brighten the dull brass before the finish coat is added. Those six are not considered nickel-free for those with allergies. All of our products are 100% lead-free.
Below is a sample of each of our offered platings in the 8.5mm (39ss) 12 Box Bracelet.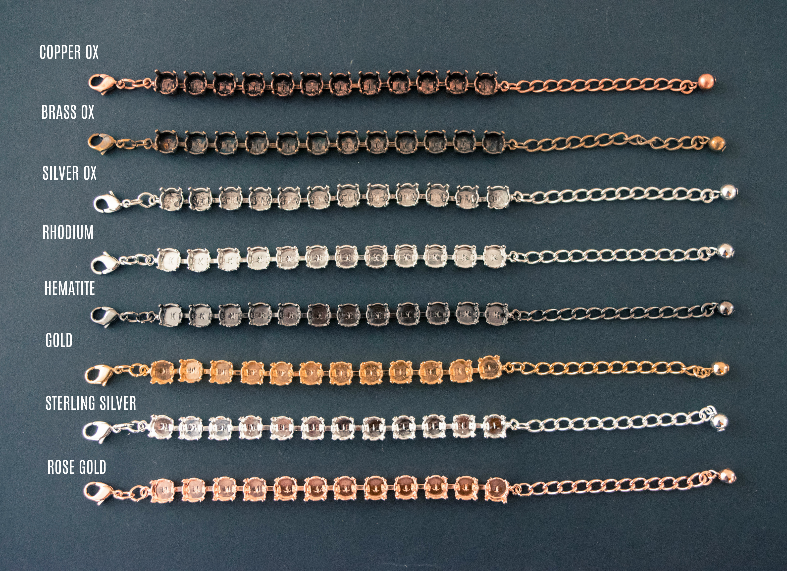 Copper Ox: Our Copper Ox has a combined brown and slightly reddish hue look. Copper Ox, also know as "Antique Copper" is best complimented with blue and green stones because of it is a warm finish.
Brass Ox: Our Brass Ox is a tender gold meets gentle bronze. Brass Ox, also referred to as "Antique Brass" resembles natural looking brass, perfect for traditional styles.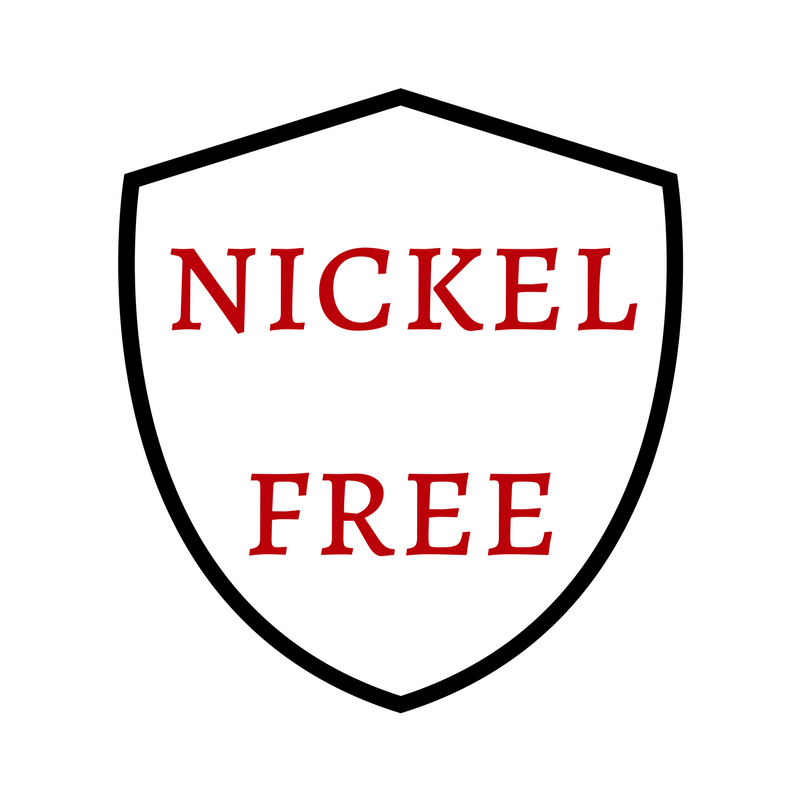 Silver Ox: Our Silver Ox gives your design a silver-plated look with an antique impression. Silver Ox, also referred to as "Antique Silver" is one of our most popular platings.
Rhodium: All of our products are offered in our most popular Rhodium finish. This silver-grey color is perfect for everyday jewelry.
Hematite: Hematite is a black shiny plating that looks dark and dramatic with lighter stones. Hematite, also referred to as "Gun Metal" creates a edgy look with its metallic shine.
Gold: Our Gold, also known as "Yellow-Gold" is known as the unofficial classic Gold color. This finish is warm in tone, and is making a come-back in the jewelry world.
Sterling Silver: Sterling Silver gives jewelry a elegant look, perfect for black tie events and weddings. Sterling Silver, also known as "Bright Silver" looks great with white, rose gold, and neutral stones for a classic look, or darker colors for a more dramatic, show stopping piece.
Rose Gold: Our Rose Gold is our newest finish introduced to only select items. It has a golden color saturated with light red. The Rose Gold trend is here to stay!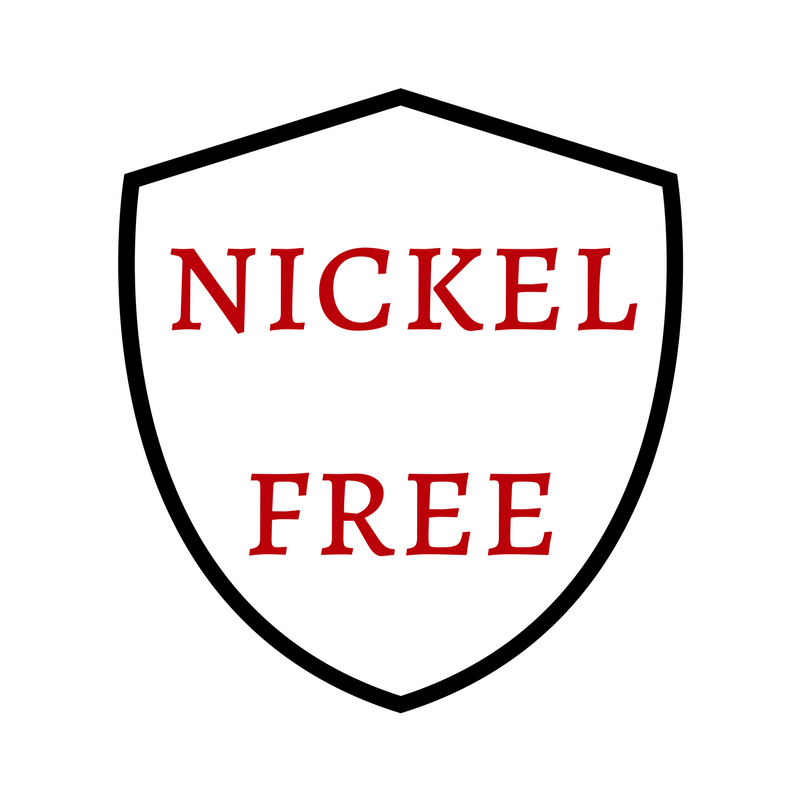 = NICKEL FREE
Ever wonder what all of our plating finishes look like in person?
With this plating sample kit, you'll get six inches of eight different finishes!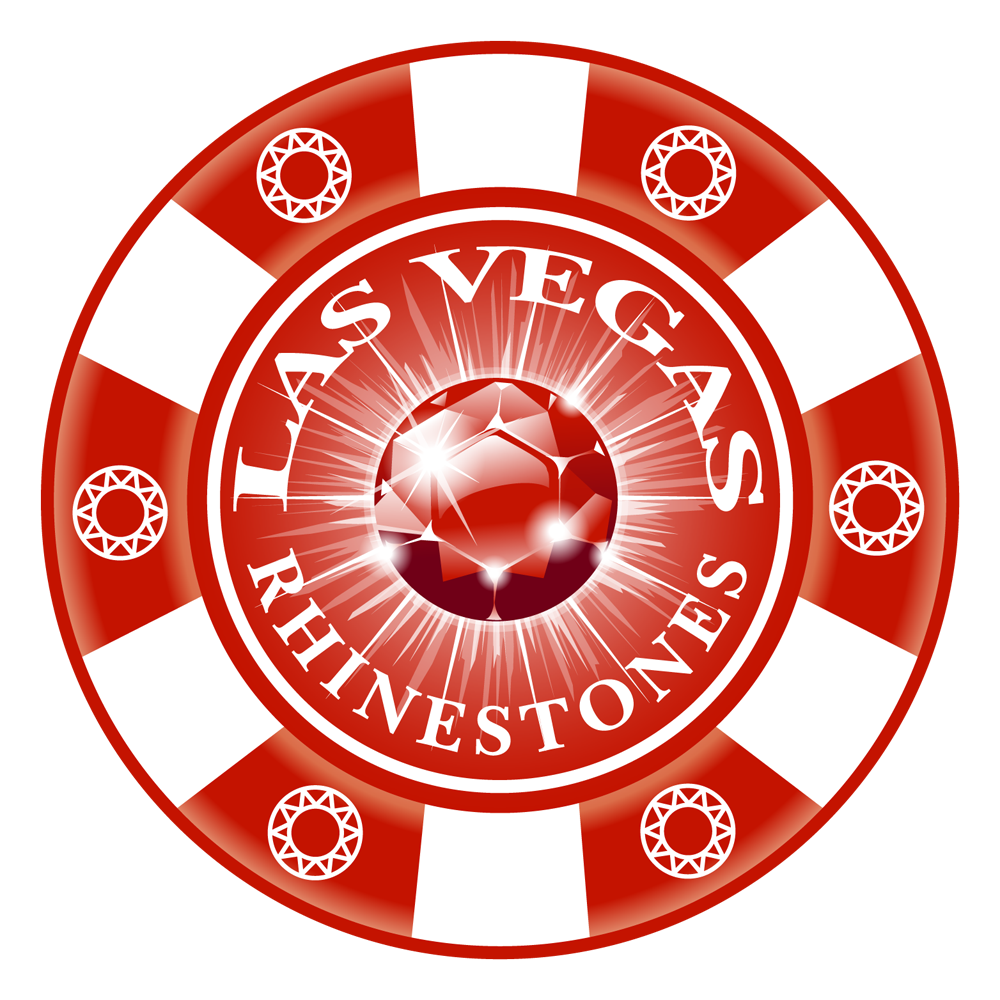 *In order to preserve the life span of your product please try to avoid contact with liquids such as water and body lotion. We recommend you store your items in a dry, safe place, away from sunlight.*
Have questions? Feel free to email us at info@lasvegasrhinestones.com!
Happy Crafting! - LVR Team