Introducing our New 8.5mm Starter Collection!
Looking to start designing our jewelry but need an introduction that won't break the bank?

Introducing our New 8.5mm (39SS) Starter Collection! | View Here
Our new 8.5mm (39SS) Empty 14 Box Tennis Bracelet & One Box Earrings Starter Kits includes:
(1) 8.5mm (39SS) Premium European Cup Chain 14 Box Bracelet | View Here
(1 Pair) 8.5mm (39SS) Premium European Empty Cup Chain 1 Box Earrings | View Here
(24) Loose 8.5mm (39SS) Swarovski Stones of the Color Collection of your choice | View Here
** You will also receive a free gift with the purchase of our starter kit!

(1 Pair) of 8.5mm Crown Earrings** | View Here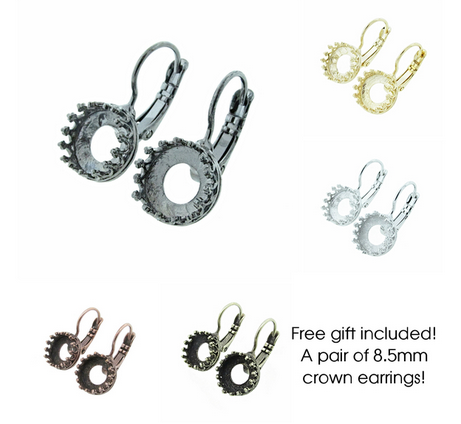 It's simple! You can choose from the following finishes: Gold Overlay, Sterling Silver Overlay, Rhodium, Hematite, Brass Ox, Silver Ox & Copper Ox and from our 20 different Swarovski stone color combinations!
Don't have the tools?
Our Prong Pushing Hand Tool for Setting 8.5mm stones is available for purchase HERE or our Pliers with a Serrated Nose HERE. Learn how to use our Prong Pushing Hand Tool on our YouTube channel here and be sure to subscribe!

Pictured from left to right: Desert Rose in Rhodium, Anchors Await in Hematite, Rustic in Copper Ox.
Have questions? Feel free to email us at info@lasvegasrhinestones.com!
Happy Crafting! - LVR Team