Mans' Best Friend- Jewled Collars
Even mans' best friend deserves some sparkle!

Our newest line of Dog Collars will be sure to make a statement.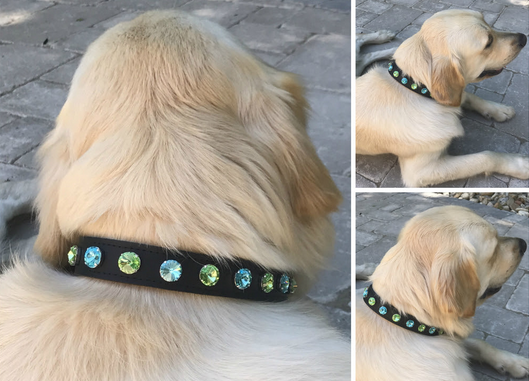 Pictured: Black Premium Leather Dog Collar-XLarge (26 inches) with Twelve 14mm Rivoli Round Rhodium Riveted Empty Settings with 14mm Periot and Light Turquoise Swarovski Stones

These collars are double stitched, hand tanned and adorned with rhodium polished buckles. They are 100% all leather and are made in the USA!

There are five sizes available: 10 inches, 14 inches, 18 inches, 22 inches and 26 inches. The following is a sizing guideline based on weight:
Want to add a softer touch? Our collars also come in PINK!
It's as easy as 1-2-3!

Simply pick the desired color and the correct size collar

Customize using Swarovski stones

Your furry friend now has a new accessory!

Have questions? Feel free to email us at info@lasvegasrhinestones.com!
Happy Crafting! - LVR Team